Last week at Heathrow the much talked-about Boeing 787 Dreamliner landed on British soil thanks to Qatar Airways. It marked the start of the ultra-modern aircraft's regularly-scheduled route between Doha and London.
As the plane landed at Heathrow airport the aircraft and its passengers were given a warm reception, with the event being described as marking a significant leap forward in the quest to improve airline passenger experience. Aboard the flight were a host of VIPs, the most noteworthy being the CEO of Qatar Airways, Akbar Al Baker and British ambassador to the state of Qatar, His Excellency Michael O'Neill.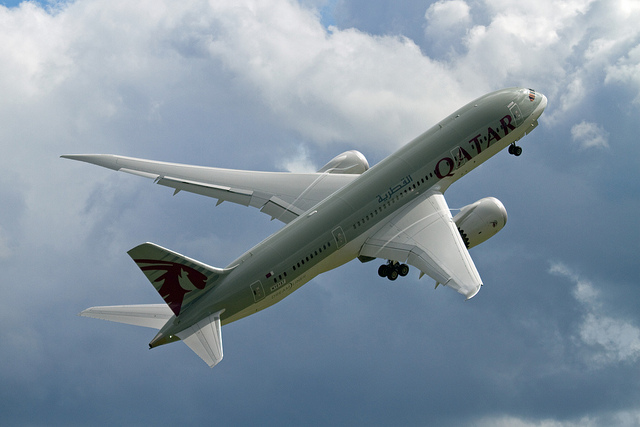 The reason behind the excitement surrounding the new plane is the number of improvements the aircraft has, designed to provide a superior passenger experience as well as improving fuel-efficiency. The Dreamliner is the world's first major airliner to be constructed using a majority of composite materials and consumes 20 per cent less fuel than similar-sized aircraft. Other improvements include LCD touch screens on the passenger windows to adjust the amount of light let in and LED mood-lighting in the cabin to improve the ambience inside the aircraft.
The fleet of Boeing 787 Dreamliners used by Qatar Airways does not feature a First Class cabin like the rest of its aircraft. Those travelling in Economy Class can expect a completely different passenger experience than they will have had in other planes, with bigger windows, better in-flight entertainment and more leg room than any other airline's economy class seat. Perhaps the most revolutionary feature on this aircraft, however, is the wifi connection throughout all the cabins, seamlessly connecting the passengers with the world below.